Tae = 'Foot' or 'to kick' or 'to jump'
K'won = 'Fist' or 'to strike or block with hand'
Do = 'The way of' or 'art'

Put this together and Taekwondo means: "The art of kicking and punching" or "The art of unarmed combat."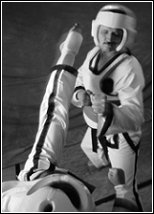 Disciplines of Taekwondo
Taekwondo has four disciplines:
Patterns or POOMSAE
Sparring
Self-defense
Breaking Test
It is the combination of these four disciplines that make the art of Taekwondo.
Objectives of Taekwondo:
to develop an appreciation for Taekwondo as a Art and a Sport
to achieve physical fitness through positive participation
to improve mental discipline and emotional equanimity
to learn self-defense skills
to develop a sense of responsibility for one self and others
Taekwondo is primarily a kicking art, often with a greater emphasis on the sport aspect of the art. Taekwondo stylists tend to fight at an extended range, and keep opponents away with their feet. It is a hard/soft, external, fairly linear style and is known for being very powerful. There is a lot of competition work in many dojongs. Training tends to emphasize sparring, but has forms,a wide variety of self defense techniques that include pressure point knowlege, sweeps and take downs and basic Hapkido. We have a comprehesive training program. Our Students are not required to Compete or engage in Full contact Sparring But as a part of there Traditional Training Learn The techniques involved. What cannot be over-emphasized in TAEKWONDO training is that it is a Philosophy and Humanistic values rather than simple techniques and skills. Throughout your training one will be taught to maintain composure,being Respectful,
Hard Work,Humility,Loyalty and Generosity based upon self-confidence. We are confident that these mental and moral aspects of TAEKWONDO will contribute to the contemporary world of industrialization more than ever, as our society moves even more towards materialism, individualism and Moral decline.

Tenets of TaeKwonDo

1. Courtesy (YEH) 2. Integrity (YOHM-CHEH) 3. Perseverance (IN-NEH) 4. Self Control (GUK-GI) 5. Indomitable Spirit (Pak-Jul -Bool -Kool)

OUR STUDENT CREED
I will develop Myself in a Positive Manner.
I will Develop Self Discipline in order to bring the Best in Myself and Others.
I will avoid anything that will reduce my Mental Health and Physical Growth.
I will use what I learn in Class constructively and Defensively.
I will never Be Abusive or Offensive.
Spiritual Significance

TAEKWONDO transforms one's character into a strong,resiliant SPIRIT so that one can develop leadership to guide and lead in all aspects of life. Leadership and a strong fighting Spirit provide confidence in all areas of a practitioners life so to help in maintaining composure and security, which will create patience and modesty. A Practitioner will also understand self Sacrifice,and giving , then will gain superior character as a leader of Society.
Our only battle in this Life is Spiritual. We must stay connected to that Great Spirit that wants us to succeed and be Blessed and not to that Negative Spirit that wants to Destroy us and Tell us we can't make our Dreams come true.

Mission Statement

To SERVE the Community by Improving the Quality of Life for all who Embrace our "SPIRIT OF LOVE"